The HS play Beauty and the Beast is coming up this weekend (March 3rd, 4th, 5th) and next, Thursday, Friday and Saturday (March 9th, 10th, 11th). Shows start at 7pm, and tickets are $6 a person at the door. Cash only please. Children 3 and under are free if you hold the child on your lap. Come support our HS students! Thank you!

All of our schools will be on a two hour delay tomorrow morning.

Good Morning, I wanted to invite each of the schools 1st Hour Classes to help send off our wrestling team in style tomorrow (Thursday, February 17th) during 1st Hour at 8:25am. Wrestling might be the toughest sport to train and compete in and we have 8 wrestlers that have qualified for the Division III State Tournament in Phoenix at the Veterans Memorial Coliseum on Thursday - Saturday. They also took 2nd Place in the toughest Section in Division III wrestling. Community come support our wrestling team!! Thank you, -- Kevin Standerfer, M.ED., CMAA Snowflake High School Assistant Principal/Athletic Director 928.536.6312 (Office) 928.457.6252 (Cell)

Come support our Snowflake High School Community Blood drive


Softball Cornhole Fundraiser - Come support our Lobos Softball Team and have some fun! Everyone is invited to attend and come compete, this is not just for HS Students and businesses. Go online and register (
https://az-snowflake-lite.intouchreceipting.com/softball
) or stop by the HS Bookstore to reserve your spot. They will also be selling Teriyaki Chicken dinners. Pre-order to reserve yours otherwise they will be sold until they are gone, skip the cooking and come have a family night!

Southwest Food Service is now hiring Food service staff needed to be able to work at least 6 hours daily Monday thru Friday. Heavy lifting required, a fast paced environment. Must be able to obtain a fingerprint clearance card, and enjoy working with children. If interested please apply at the high school cafeteria. I also need a driver Driver position available, must have a clean driving record, must be able to obtain a fingerprint clearance card, heavy lifting required, and able to work at least 6 hours daily Monday - Friday. If interested please apply at the high school cafeteria.

Dear Parents and Families, Making sure that our schools are a safe place for students, staff, and visitors is our highest priority. I am writing to inform you that we've been made aware of the nationwide Tik Tok challenge encouraging school threats. This post started a challenge to skip school on December 17th and it evolved to a challenge to threaten school safety on the same day. Please know that there have been NO credible threats made against any school in Snowflake Unified School District. However, our district administration is working closely with the Snowflake-Taylor Police Department to monitor and respond to any potential threats. To be clear, any threat or dangerous activity in our schools is completely unacceptable, they will be fully investigated, and they will be met with serious consequences. Snowflake Schools will be operating on a normal Friday schedule tomorrow, December 17th. If you or your child become aware of any potential threat posted to social media or anywhere else, please notify a school staff member or trusted adult right away. We would also ask our parents and families to monitor their children's social media activity and speak with them about proper behavior online. As always, thank you for your partnership as we work to ensure a safe, secure, and positive learning environment for our students. Sincerely, Hollis J. Merrell

Parents, Is your child missing a coat or glasses or maybe even a backpack? The bus barn has a lot of lost and found items. Please go to the bus barn and find your lost items. If items are not picked up they will be donated.

The Lobo Football Booster Club and SHS would like to invite all Fall sports teams and their families and fans to show up and be recognized for your team's accomplishments this fall. We have had a highly successful Fall with all of our HS, JH, and Little League teams, and now it's time to celebrate those accomplishments. Here are the details. Please share them out to your teams and parents: Who: All Snowflake Fall Sports Teams, their families, and anyone else interested in showing up to celebrate our athletes and their incredible accomplishments. Lobo Up in your best blue and white (game jerseys for players that still have them) and LET'S GO!!! What: Lobo Fall Sports Celebration of Success When: Friday, December 3 Parade starts at 3:30pm, program at 4:00pm, senior walk at approx. 4:30pm Where: Parade starts at the Snowflake Social Hall and will go west on Center St. to 2nd West and then South on 2nd West to the HS Gym, program in the HS Gym, Senior walk on the football field Why: Because we are awesome, and we should celebrate those accomplishments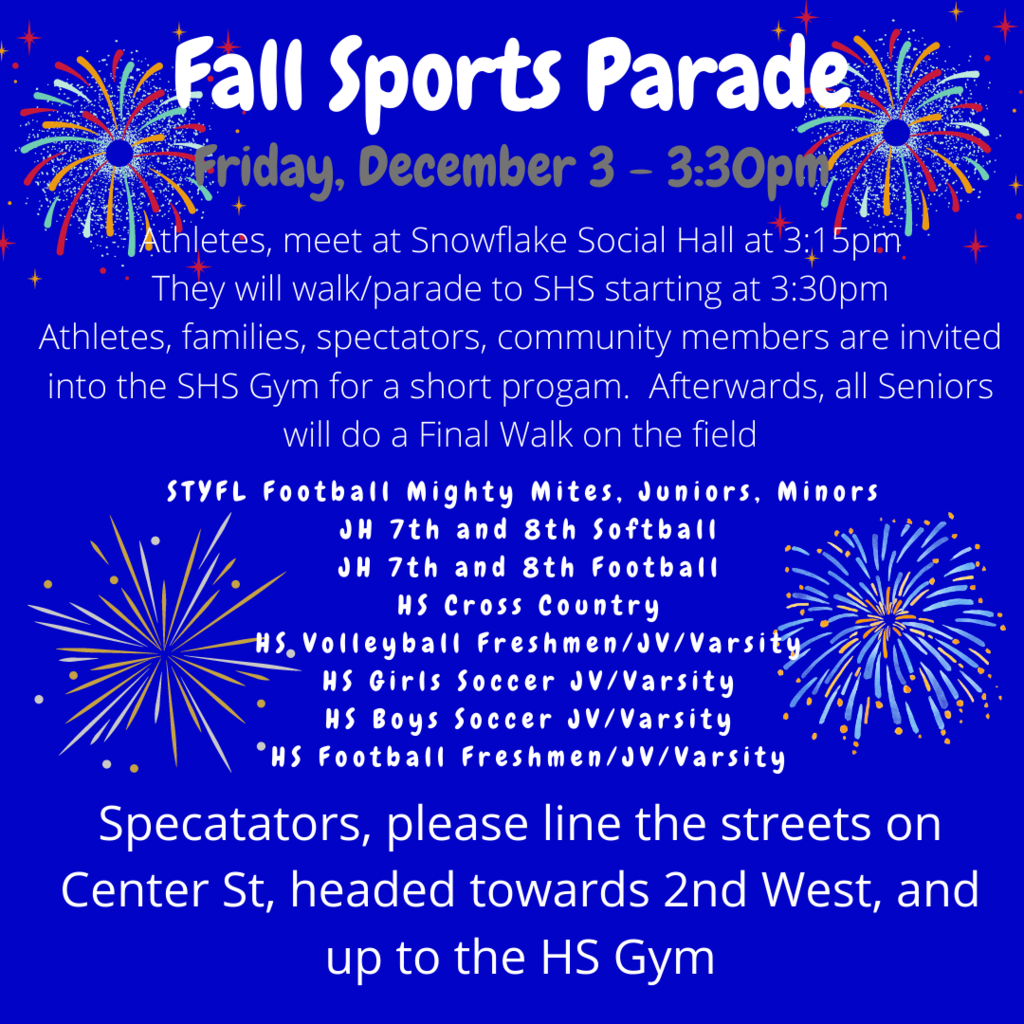 SHS Holiday Programs December 6 - Polar Express Program - Times: 5 and 7, $5 per person December 7 - HS Instrumental Christmas Concert - 7:00 December 8 - HS Choir Christmas Concert - 7:00 December 19 - Vespers - Times 6 and 8, Lobo Auditorium

November Board Meeting has been changed from Thursday the 11th to Tuesday the 9th. At the District office at 5PM.

Snowflake High School Blood Drive Tuesday Oct. 12 from 8am to 6pm.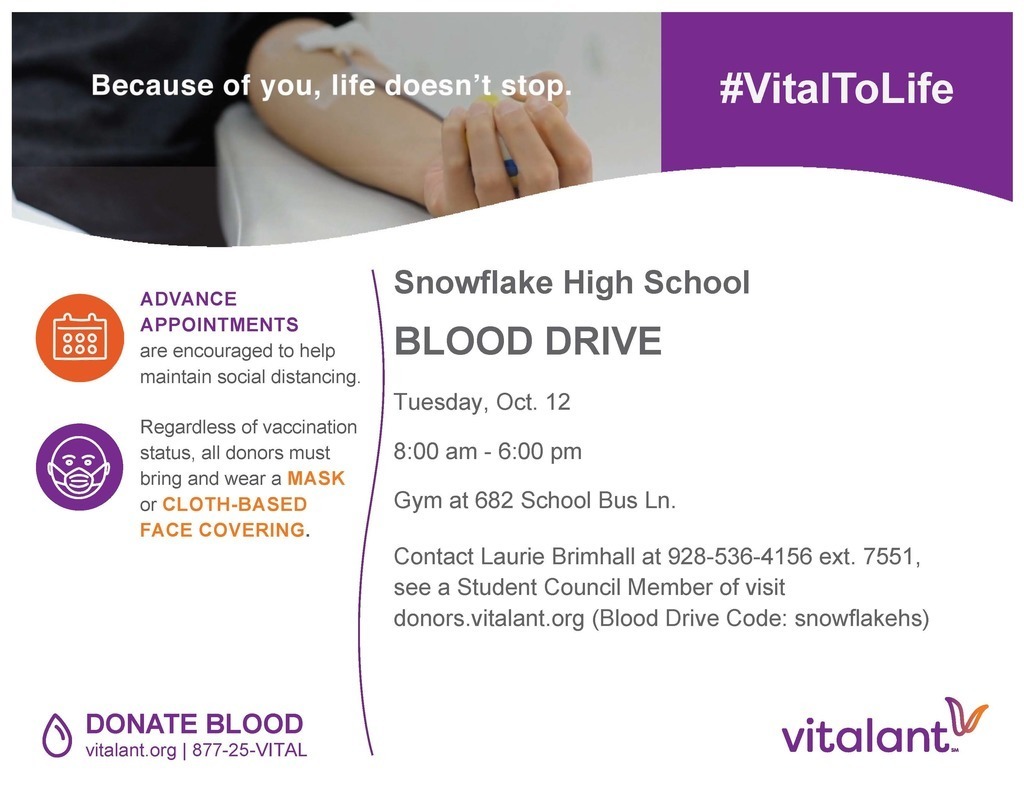 Do you have pictures of activities happening at our schools and would like to share them? We would love to add them to our website. Feel free to upload and email to Tohna Rogers at
tohnar@snowflake.k12.az.us
. We will put on the photos that we can. Thank you

REMINDER: Snowflake FFA will be holding our annual Homecoming BBQ this evening, beginning sales at 5pm and ending at 8pm. We will be located in the High School Cafeteria selling plates for $5 or $20 for 5 plates. The plates will include a pulled pork sandwich, baked beans, bag of chips, and a flavored water. Come out and enjoy some delicious BBQ and support your local FFA Chapter!!!

Parents please note that Taylor buses pull into the JH first, once they are loaded, then they leave the campus. Snowflake buses will then enter the JH campus. The reason it is done this way is not all of our buses can fit in that area.

FFA OPEN HOUSE!! Aug. 23rd 4-7 pm SHS AG Room Come take a tour of the Agriculture and FFA program. Parents, students and community members welcome. Refreshments will be provided.

SNOWFLAKE SCHOOL DISTRICT 5TH ANNUAL NIGHT OF SERVICE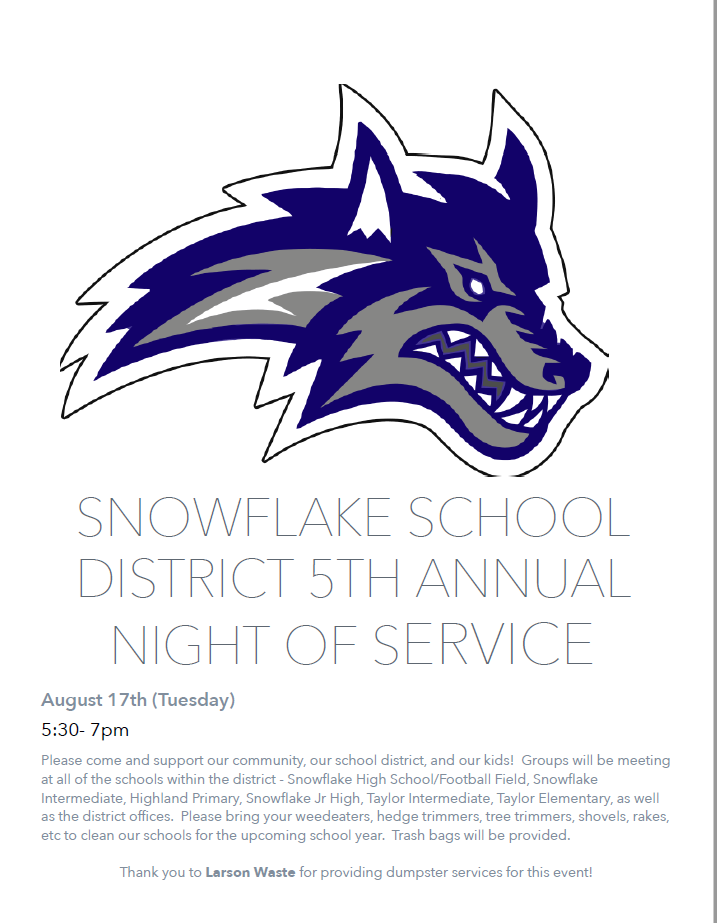 Bus routes have been posted on the District page. Go to menu, click on departments and then transportation. All routes will be on the right hand side.

Happy 4th of July!! Have a safe and happy holiday!