Snowflake High School Community Blood Drive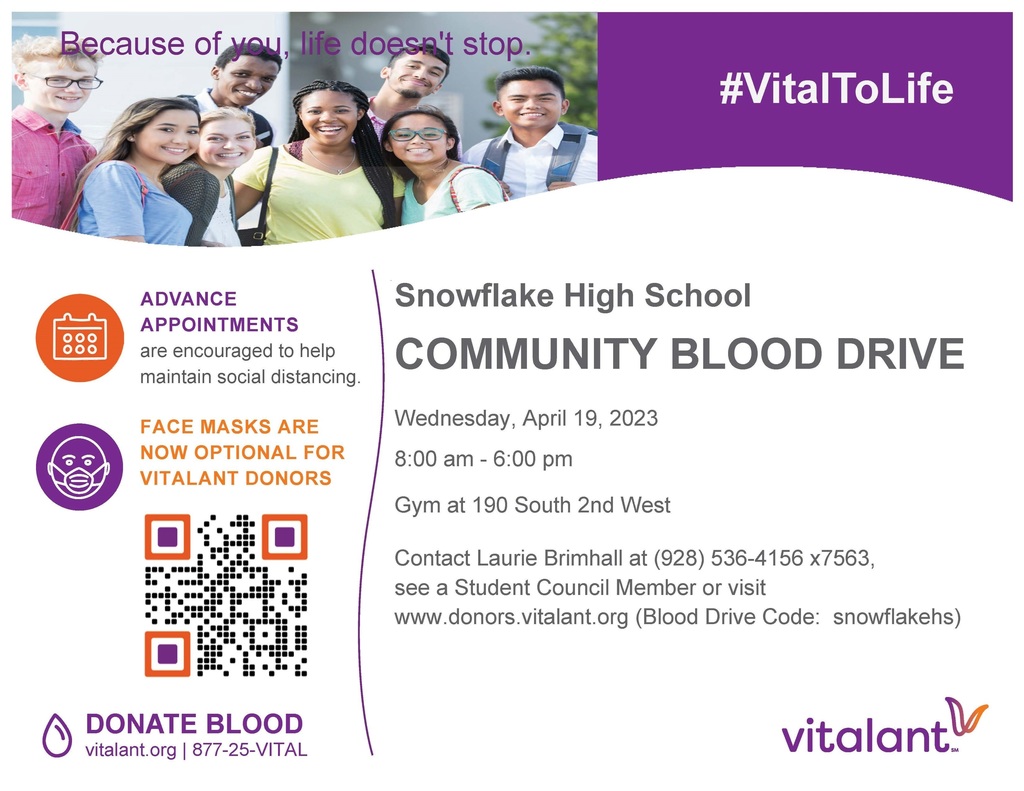 Snowflake High School Chitty Chitty Bang Bang Performances Opening night is Friday, Mar 3rd. 7pm There are TWO performances on Saturday March 4th a 2:00pm matinee and 7pm evening show. Monday, March 6th 7pm Thursday, March 9th 7pm and the final closing show is on Friday, March 10th 7pm. There will be NO performances on March 11th.

The snow we got in the last hours has the roads very icy and slick. All schools will be on a two hour delay tomorrow. If you we change to a snow day, we will get that message out by 7:00 a.m. in the morning.

County Spelling Bee has been moved to Friday February 17, 2023 due to our snow day today. The Spelling Bee will start at 10:30 and be held in Snowflake High School auditorium.

Good Morning parents and staff, All of our schools will be closed today. Stay safe. Stay warm. Best Wishes, Hollis J. Merrell SUSD#5

Come support our community blood drive.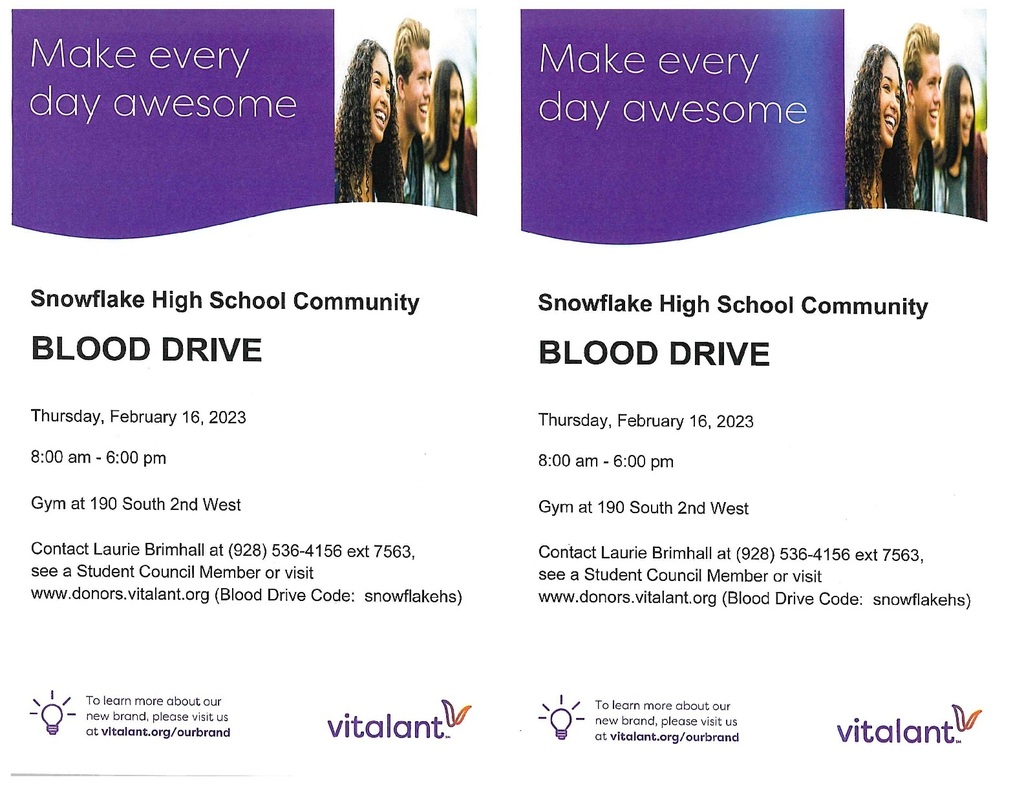 All schools will be closed tomorrow January 24th. Snow Day! Please check your email for more information.

SNOW DAY!!! No school today 1/20/2023 .

Dear Parents and Staff, Earlier this evening a student posted a threat on social media directed at the Junior High. Police were contacted and the student was taken into custody for questioning. Due to the investigation, we are unable to give more details at this time. We do however want to assure parents that students will be safe and school will be held on a regular schedule. There will be an increase in police presence in and around our schools. Parents, please talk to your children about the seriousness of social media. All threats will be taken seriously. We would like to thank our local police department for their quick response to this matter. Sincerely, Hollis J. Merrell Snowflake School District Superintendent

All of our schools in Snowflake and Taylor will be on a two hour delay today.

Irelyn Westcott represented Navajo County in a statewide essay contest. 20 winners were chosen out of 631 entries. Irelyn is a 5th grader at Snowflake Intermediate School. We are very proud of Miss Irelyn. Thank you for representing Snowflake School District so well!!

SHS MADRIGALS ANNUAL ICE CREAM SOCIAL MONDAY OCTOBER 17 AT 7:30 PM SHS AUDITORIUM $5.00 PER PERSON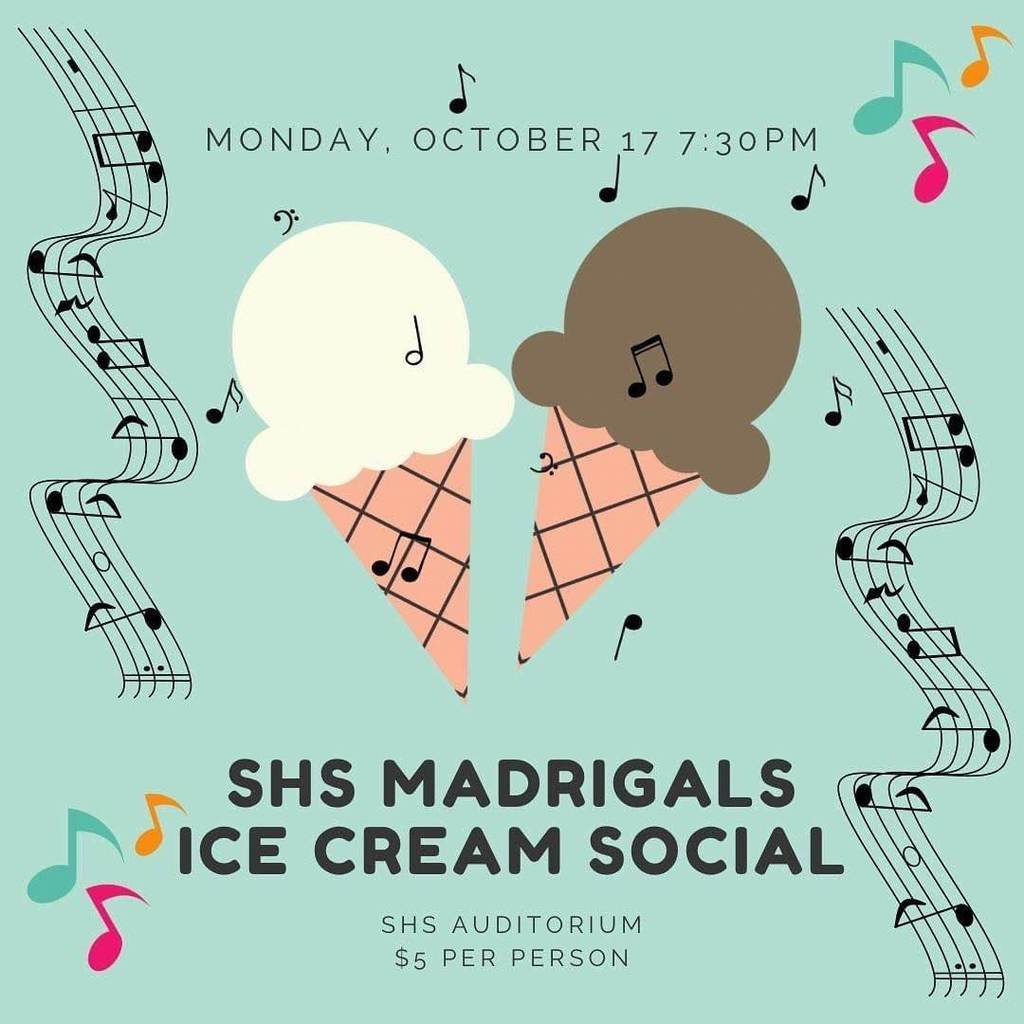 Get Ready for a Spectacular Week of Homecoming! OCTOBER 24-28 GET YOUR LOBO SPIRIT OUT FOR Ice cream social Powder Puff Pep Assembly Mums for Moms FFA BBQ Parade Cross Country Soccer Volleyball Football. Come join us for fun filled week of activities. Look for these activities on our website calendar. You will find these events on the blue buttons titled activities on our home page.

Come honor our Native American Culture and History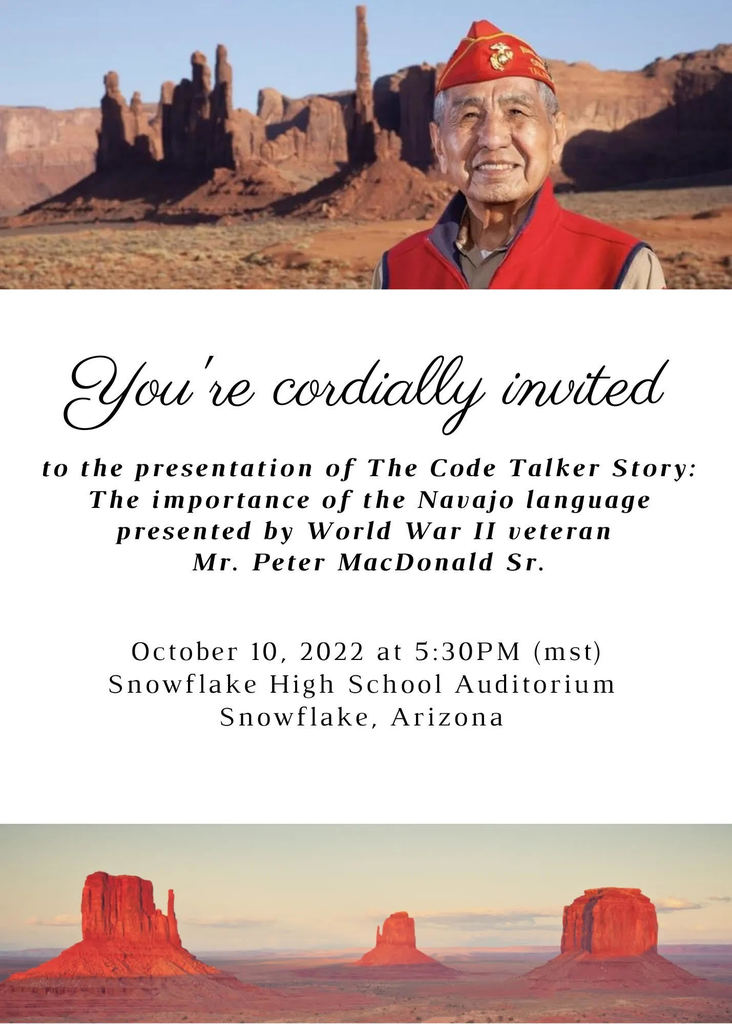 Snowflake High School Community Blood Drive Tuesday October 11, 2022 8:00 AM to 6:00 PM 190 S. 2nd West

Here is how tickets can be pre-purchased using GoFan Online Ticket: QR Code: see attachment below GoFan link:
https://gofan.co/app/school/AZ12009
Visit GoFan.co and search Snowflake High School. (See attachment below for more information) Also, the ticket price is: Adults = $5.00 + $1.00 (Service Fee) for a total = $6.00 Seniors/Students = $3.00 + $1.00 (Service Fee) for a total = $4.00 For any fans that want to use cash or not hassle with the online tickets they can come the Snowflake HS office and visit Mrs. Kim Capps and purchase the following: Punch Card: Adults = $40 for 10 tickets and Seniors = $25 for 10 tickets or you can by a Family Pass: All SportsFamily Pass = $300 (Entire family into all volleyball, football and basketball games) Volleyball Family Pass = $100 Football Family Pass = $75 Basketball Family Pass + $100 Call if you have any questions, 928-536-4156 Ext. 7514

Here is how tickets can be pre-purchased using GoFan Online Ticket: QR Code: see attachment below GoFan link:
https://gofan.co/app/school/AZ12009
Visit GoFan.co and search Snowflake High School. (See attachment below for more information) Also, the ticket price is: Adults = $5.00 + $1.00 (Service Fee) for a total = $6.00 Seniors/Students = $3.00 + $1.00 (Service Fee) for a total = $4.00 For any fans that want to use cash or not hassle with the online tickets they can come the Snowflake HS office and visit Mrs. Kim Capps and purchase the following: Punch Card: Adults = $40 for 10 tickets and Seniors = $25 for 10 tickets or you can by a Family Pass: All SportsFamily Pass = $300 (Entire family into all volleyball, football and basketball games) Volleyball Family Pass = $100 Football Family Pass = $75 Basketball Family Pass + $100 Call if you have any questions, 928-536-4156 Ext. 7514

Grab and Go Program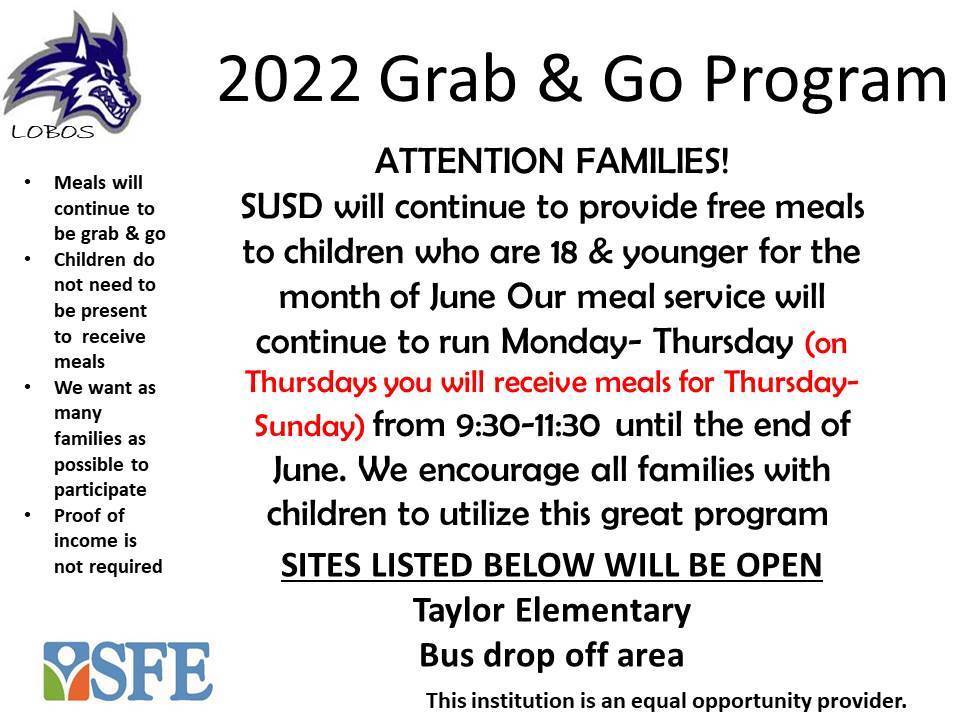 Highland Primary Spelling Bee! The winners of the Highland Primary Spelling Bee Tezza Brimhall 1st Cater Christensen 2nd Brigham Peterson 3rd Congratulations to all of our participants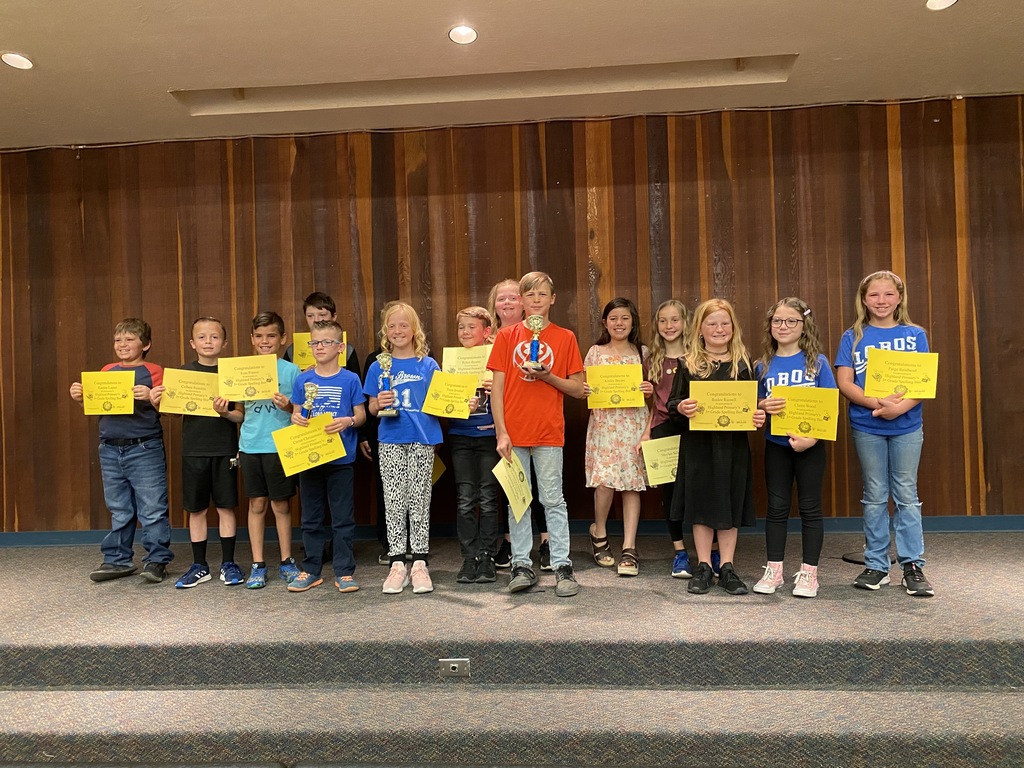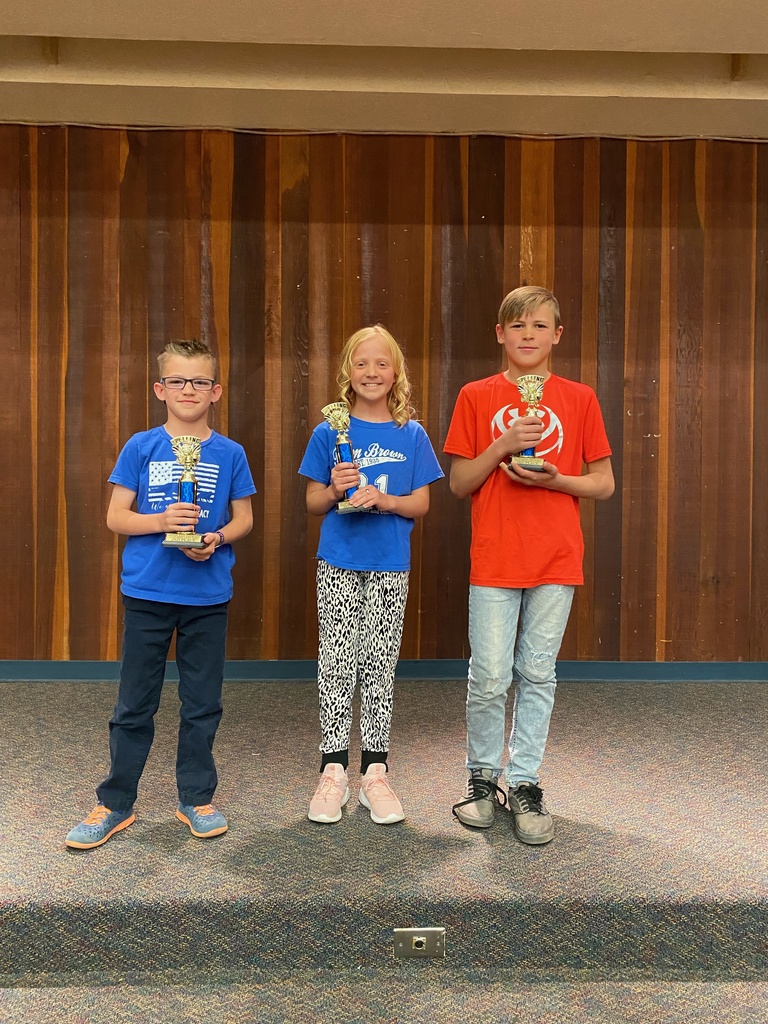 Snowflake High School Community Blood Drive Wednesday April 20 8am -6 pm Snowflake High School Gym